Parents Hold the Keys to Training Safe Teen Drivers
For a young person, getting a driver's license can create an exciting sense of freedom, but parents know this newfound freedom comes with serious risks. Motor vehicle crashes are the leading cause of death for teenagers in the United States.1
There are proven strategies to help prevent these tragedies, and your role as a parent is essential to your teen's safety behind the wheel. If you have a teen driver in your family, this may be a good time to make sure that both you and your teen understand the applicable rules, safety concerns, and insurance issues.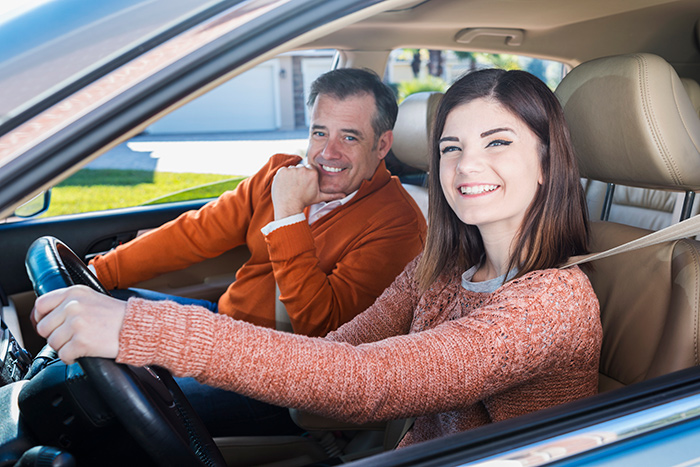 A Gradual Approach
Newly licensed teens are more likely to be involved in an automobile crash than more experienced teen drivers.2 Every state has implemented three-stage graduated driver licensing (GDL) programs to provide drivers ages 15 to 17 with more practice and to discourage risky behavior.3 GDL laws help foster a protective and distraction-free environment while new drivers are still learning to operate a vehicle.
Stage one is the learner or permit stage, which specifies a set number of hours of supervised practice and a set amount of time (typically 6 to 12 months) before the license to drive solo may be issued. Stage two is the intermediate or provisional period in which the young driver has a license to drive alone, but peer passengers are limited or banned altogether and late-night driving is restricted. Other restrictions such as banning phones and other electronic devices may be included in this phase. Stage three is a full, unrestricted license.4
The good news is that the phasing in of teen driving privileges has reduced accidents and fatalities. Research suggests that more comprehensive GDL programs have reduced crashes among 16-year-old drivers by 16% to 22%, with an even more dramatic reduction in fatal crashes of 26% to 41%.5
To fully benefit from these laws, teens have to obey the restrictions — and this may require parental involvement. Make sure your teen understands that these are legal requirements with serious consequences for breaking them.
Specific Risks and Rules
GDL programs attempt to address a variety of known risks for teen drivers. Along with understanding and reinforcing your state's program, you may want to develop your own rules and emphasize specific risks to your teenagers.
One way to make the rules and consequences clear is to create a parent-teen driving agreement and post it where both you and your teen can see it. The Centers for Disease Control and Prevention has a sample agreement that you can download at cdc.gov/ParentsAreTheKey/agreement.
Here are some of the risks that research has identified for teen drivers.
Inexperience and poor judgment. Teenagers are more likely than older drivers to underestimate dangerous situations and not recognize hazardous conditions.6
Driving with friends. Having other teenagers as passengers increases risk, with a direct relationship between the number of passengers and risk.7 Almost all state GDL programs have some level of passenger restriction.8
Distracted driving. Cell phone use and other distracting behaviors, such as reaching for an object, playing with the radio, and turning to talk to a passenger, are an issue for drivers of all ages, but they may be especially dangerous for inexperienced drivers.

9

Speeding. In 2016, speed was a factor in about one in three fatal crashes involving a teen driver.10
Wearing seat belts. Teens have the lowest rate of seat-belt use, so it's important to emphasize the need for seat belts whether driving solo or with passengers. Tragically, 58% of teenage passengers who died in vehicle crashes in 2016 were not wearing seat belts.11
Drinking. The fact that drinking is illegal for those under 21 does not keep them from drinking and driving. In 2016, nearly 20% of teen drivers involved in fatal motor vehicle crashes had been drinking.12
Insuring a Teen
Because of the higher risk, it's not surprising that auto insurance rates are higher for teen drivers. However, many insurance companies offer a good student discount, typically for students with a B or higher grade-point average. Some companies also offer discounts to families who install electronic devices that enable parents to monitor their children's driving habits. These companies may partially subsidize the cost of the devices as well.
Although insuring a newly licensed driver may come with sticker shock, rates typically go down as a young driver gains more experience and maintains a clean driving record. If you have questions about insuring a teen driver, either now or in the future, contact your insurance professional.